Soon after April 15, 1861: Virginia, Arkansas, North Carolina, and Tennessee joined the Confederacy.
After Virginia seceded, the Confederate Congress voted on May 21, 1861, to move its capital to Richmond. The move was accomplished on May 29.
The Constitution of the Confederacy, adopted in March 1861, was modeled after the United States Constitution but it contained six important differences:
1. The president's and vice president's terms were six years. The president could not serve successive terms.
2. Cabinet members received seats in Congress and had the privilege of debate but they could not vote.
3. Foreign slave trade was ended, but not slavery.
4. Congress was forbidden to make appropriations for internal improvements, to levy a protective tariff, or to give bounties.
5. A two-thirds vote of both houses of Congress was necessary to admit a new state into the Confederacy or to make appropriations not requested by the heads of departments through the president.
6. The president could veto single items in appropriation bills (line item veto).
The Confederate States hoped for a peaceful withdrawal from the Union. A number of people in the Confederacy and in the Union worked hard to avoid war but their efforts failed, and war began with the attack on Fort Sumter on April 12, 1861.
How the states lined up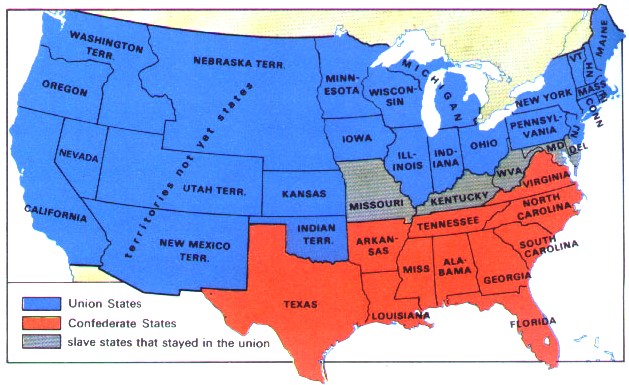 Eleven states fought for the Confederacy. They were Alabama, Arkansas, Florida, Georgia, Louisiana, Mississippi, North Carolina, South Carolina, Tennessee, Texas, and Virginia.
Twenty-three states fought for the North. They were California, Connecticut, Delaware, Illinois, Indiana, Iowa, Kansas, Kentucky, Maine, Maryland, Massachusetts, Michigan, Minnesota, Missouri, New Hampshire, New Jersey, New York, Ohio, Oregon, Pennsylvania, Rhode Island, Vermont, and Wisconsin.
The territories of Colorado, Dakota, Nebraska, Nevada, New Mexico, Utah, and Washington also fought for the Union.
Each side included slave states that lay on either side of the border between the North and the Deep South. When the war began, both the Union and the Confederacy made strong efforts to gain their support. North Carolina, Virginia, Arkansas, and Tennessee joined the Confederacy. Delaware, Maryland, Kentucky, and Missouri stayed in the Union. The western counties of Virginia seceded from the South later in the war, and in 1863 formed the state of West Virginia.
Secessionist groups set up separate state governments in both Kentucky and Missouri, even though those states stayed in the Union. Those groups also sent delegates to the Confederate Congress which accounts for the 13 stars in the Confederate flag even though only 11 states actually joined the Confederacy.
Some people in border states supported the North, but others believed in the Southern cause. The heaviest fighting of the war occurred in the border states.
Border states on the Southern side were Virginia, North Carolina, Tennessee, and Arkansas.
Border states that supported the North were Delaware, Maryland, Kentucky, and Missouri.