---
George VI
House of Windsor -- Reigned: 1936-1952

1895-1952
---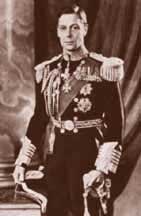 George VI, born December 14, 1895, was the second son of George V and Mary of Teck. He was an unassuming, shy boy who greatly admired his brother Edward, Prince of Wales.
From childhood to the age of thirty, George suffered with a bad stammer in his speech, which exacerbated his shyness; Lionel Logue, an Australian speech therapist, was instrumental in helping George overcome the speech defect.
George married Lady Elizabeth Bowes-Lyon in 1923, who bore him two daughters, Elizabeth and Margaret. He died from cancer on February 6, 1952.
Due to the controversy surrounding the abdication of Edward VIII, popular opinion of the throne was at its lowest point since the latter half of Victoria's reign. The abdication, however, was soon overshadowed by continental developments, as Europe inched closer to yet another World War.
After several years of pursuing "appeasement" policies with Germany, Great Britain (and France) declared war on Germany on September 3, 1939. George, following in his father's footsteps, visited troops, munitions factories, supply docks and bomb-damaged areas to support the war effort.
As the Nazi's bombed London, the royal family remained at Buckingham Palace; George went so far as to practice firing his revolver, vowing that he would defend Buckingham to the death. Fortunately, such defense was never necessary. The actions of the King and Queen during the war years greatly added to the prestige of the monarchy.
George predicted the hardships following the end of the war as early as 1941. From 1945-50, Great Britain underwent marked transitions. The Bank of England, as well as most facets of industry, transportation, energy production and health care, were brought to some degree of public ownership. The birth pangs of the Welfare State and the change from Empire to multiracial Commonwealth troubled the high-strung king. The political turmoil and economic hardships of the post-war years left the king physically and emotionally drained by the time of his death.
In the context of royal history, George VI was one of only five monarchs who succeeded the throne in the lifetime of his predecessor; Henry IV, Edward IV, Richard III, and William III were the other four.
George, upon his ascension, wrote to Prime Minister Stanley Baldwin concerning the state of the monarchy: "I am new to the job but I hope that time will be allowed to me to make amends for what has happened."
His brother Edward continued to advise George on matters of the day, but such advice was a hindrance, as it was contradictory to policies pursued by George's ministers. The "slim, quiet man with tired eyes" (as described by Logue) had a troubled reign, but he did much to leave the monarchy in better condition than he found it.
---