---
Richard III, Crookback
Plantagenet, Yorkist Line -- Reigned: 1483-1485

1452-1485
---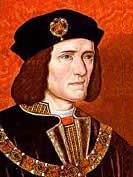 Richard III, the eleventh child of Richard, Duke of York, and Cecily Neville, was born in 1452. He was created third Duke of Gloucester at the coronation of his brother, Edward IV.
Richard had three children: one each of an illegitimate son and daughter, and one son by his first wife, Anne Neville, widow of Henry IV's son Edward.
Richard's reign gained an importance out of proportion to its length. He was the last of the Plantagenet dynasty, which had ruled England since 1154; he was the last English king to die on the battlefield; his death in 1485 is generally accepted between the medieval and modern ages in England; and he is credited with the responsibility for several murders: Henry VI, Henry's son Edward, his brother Clarence, and his nephews Edward and Richard.
Richard's power was immense, and upon the death of Edward IV, he positioned himself to seize the throne from the young Edward V. He feared a continuance of internal feuding should Edward V, under the influence of his mother's Woodville relatives, remain on the throne (most of this feared conflict would have undoubtedly come from Richard).
The old nobility, also fearful of a strengthened Woodville clan, assembled and declared the succession of Edward V as illegal, due to weak evidence suggesting that Edward IV's marriage to Elizabeth Woodville was bigamous, thereby rendering his sons illegitimate and ineligible as heirs to the crown. Edward V and his younger brother, Richard of York, were imprisoned in the Tower of London, never to again emerge alive. Richard of Gloucester was crowned Richard III on July 6, 1483.
Four months into his reign he crushed a rebellion led by his former assistant Henry Stafford, Duke of Buckingham, who sought the installation of Henry Tudor, a diluted Lancaster, to the throne. The rebellion was crushed, but Tudor gathered troops and attacked Richard's forces on August 22, 1485, at the battle of Bosworth Field. The last major battle of the Wars of the Roses, Bosworth Field became the death place of Richard III.
Historians have been noticeably unkind to Richard, based on purely circumstantial evidence; Shakespeare portrays him as a complete monster in his play, Richard III. One thing is for certain, however: Richard's defeat and the cessation of the Wars of the Roses allowed the stability England required to heal, consolidate, and push into the modern era.
---