---
USS Constitution
History Timeline

1794 - ...
---
1794: March 27 -- Congress authorizes construction of six frigates to help protect American merchant fleets from attacks by the Algerian pirates and harassment by British and French forces. They are to be designed by Joshua Humphreys and built at six different sites. The contract for one of those ships, to be named CONSTITUTION, is given to Edmond Harrt's Shipyard in Boston.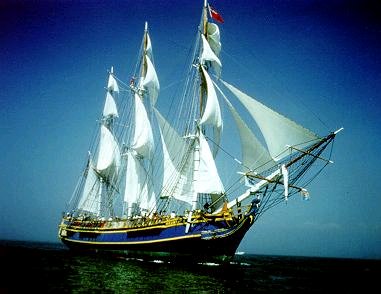 1794-1797: CONSTITUTION is under construction. Built in Boston to defend the young American nation, currently CONSTITUTION is nearly as old as the document for which George Washington named her. Both the document and the ship have proven to be resilient symbols of America's strength, courage, and liberty. CONSTITUTION was designed by Joshua Humphreys to be powerful enough to defeat any enemy about the same size and fast enough to out sail a stronger opponent. CONSTITUTION was built by Colonel George Claghorn at Edmond Hartt's shipyard in Boston. Made from more than 1,500 trees, with timbers felled from Maine to Georgia and armed with cannons cast in Rhode Island and copper fastenings provided by Paul Revere, the vessel is truly a national ship. Launched in Boston on October 21, 1797, she first put to sea in 1798. Having remained a part of the U.S. Navy since that day, CONSTITUTION is the oldest commissioned warship afloat in the world.
1797: Oct. 21 -- CONSTITUTION is launched and christened by Capt. James Sever. It was the third attempt to launch her. The first, a month earlier, failed when the ship moved only 25 feet down the ways. Two days later she was moved an additional 30 feet. Workers had to make the ways steeper before the launch could be completed. The public was warned beforehand that the launch might cause a dangerously large wave, but none materialized.
1798: March 27 -- Congress votes to fit her out for sea.
1798: July 22 -- First put to sea and commanded by Capt. Samuel Nicholson.
1798-1801: Cruising in West Indies protecting U.S. shipping from French privateers, CONSTITUTION is not engaged in any battles.
1802-1803: Laid up in Boston, MA.
1803-1806: President Thomas Jefferson sent her to the Mediterranean to protect American ships and seamen from attack by the Barbary pirates. With Captain Edward Preble in command, CONSTITUTION and other ships of the squadron bombarded Tripoli.
1805: June -- Hosted signing ceremony for peace treaty between the U.S. and Tripoli.
1812: Overhauled at Washington Navy Yard.
1812-1815: War with Great Britain.
1812: July 17 -- The war was hardly a month old when CONSTITUTION, on the way from Chesapeake Bay to New York, met up with a squadron of five British ships. Her escape is now legendary. With both sides becalmed and just out of gunnery range, there ensued what amounted to a three-day, slow-speed chase. CONSTITUTION's crew kept her ahead of the English by rowing (known to Sailors as the "white ash breeze"), by attempting to tow her with the ship's boats. Then her First Lieutenant (Executive Officer), Lt. Charles Morris, suggested a procedure known as "kedging," in which an anchor is carried out ahead of the ship, dropped, and the ship drawn up to it. This back-breaking task was carried out and when a breeze sprang up at dawn the CONSTITUTION was far enough ahead of her pursuers to escape by sail.
1812: Aug. 19 -- The fight with HMS GUERRIÈRE took place some 600 miles east of Boston on the afternoon of 19 August 1812.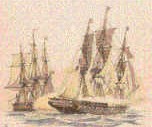 After an hour of inconclusive maneuvering and shooting, the two settled down to a short-range slugfest. After 20 minutes, the Briton's mizzenmast fell. A while later, both her remaining masts went overboard. At some point in the battle, someone is said to have seen British shot bouncing off CONSTITUTION's side, and shouted, "Huzzah! Her sides are made of iron' And so was born the nickname "Old Ironsides." The Americans had 14 casualties; the British, 79. GUERRIÈRE was so badly damaged, she had to be sunk. Congress awarded Captain Isaac Hull a gold medal.
1812: Dec. 29 -- CONSTITUTION was about 30 miles off Brazil on 29 December 1812 when, at about 2 in the afternoon, she began a fight with the faster HMS JAVA. American Commodore William Bainbridge was wounded twice, and the ship's wheel was shot away, but for more than 2 hours he maneuvered brilliantly and fought tenaciously until, finally, JAVA had no masts left standing and her Captain lay dying. This time, there were 34 American casualties as opposed to around 150 British. Like GUERRIÈRE, JAVA was too badly damaged to bring home - but before sinking her, Bainbridge had her wheel removed to replace the one she shot away. Commodore Bainbridge also received a gold medal.
1813: At the end of February, CONSTITUTION returned to Boston, where there was great rejoicing over her victory. The ship then underwent an overhaul. When again ready to fight, 'Old lronsides' was shut in the Boston harbor for eight and a half months by the strenuous British blockade except for a short cruise under Captain Charles Stewart. Finally, taking advantage of bad weather and poor visibility in December 1814, Captain Stewart slipped past the enemy.
1814: February-April -- Captures the schooner Pictou and three smaller vessels during cruise to Windward Islands.
1814: Escapes into Marblehead while being chased by two larger British frigates.
1814: Blockaded at Boston for eight months, from April to December.
1815: Feb. 20 -- Captain Charles Stewart had CONSTITUTION about 180 miles from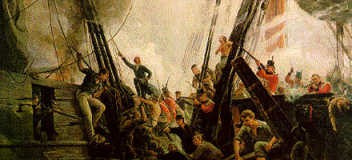 Madeira Island when, on the afternoon of 20 February 1815, he came upon the British men-of-war CYANE and LEVANT. The one-against-two fight began as the sun was setting. By adept sail handling, Stewart swiftly closed on CYANE and almost completely destroyed the masts and rigging. Then he blasted LEVANT enough to put her out of action for a while during which time he closed again on CYANE and forced her to surrender. After putting a prize crew in her, he turned his attention again to LEVANT, chasing her until she had no choice but to surrender. Stewart had 4 killed and 14 wounded. His two opponents had 35 dead and at least 42 wounded. He hoped to bring his two captures home, but ran into a British squadron that retook LEVANT while CONSTITUTION and CYANE returned safely to New York. HMS CYANE later became USS CYANE. Captain Stewart received a gold medal from Congress.
Captain Stewart, having learned that the war was over, sailed for home and anchored CONSTITUTION in New York on May 15, 1815. Her war service had ended but she had played a truly glorious part in establishing our freedom of the seas.
1815-1821: Laid up in ordinary at the Boston Navy Yard.
1821-1828: Served as flagship of the Navy's Mediterranean squadron, under command of Capt. Jacob Jones. During this tour of duty was visited by the English poet Lord Byron. Returned to the U.S. once during this period, in 1824, to refit and change crews.
1828-1830: Laid up at Boston. During this time the Navy requested the Navy Yard Commanders conduct surveys on all ships laid up in ordinary -- which included 'Old Ironsides' -- to determine how much work would need to be done to bring the ships into commission. This information reached a local publication and it was misreported that the Navy wanted to scrap 'Old Ironsides'. Immediately after that a poem by Oliver Wendell Holmes, called Old Ironsides, was written to generate public support. The Navy paid to refurbish CONSTITUTION.
1833-1834: Became the first ship to enter the John Quincy Adams Drydock at the former Boston Navy Yard. This drydock also has the distinction of having CONSTITUTION as the last ship to be overhauled within the yard in 1974.
1834: CONSTITUTION became embroiled in a political controversy over the installation of a new figurehead depicting President Andrew Jackson. The original figurehead, representing Hercules, was lost in a collision during the Barbary wars. Jackson was widely hated in Boston at the time, and feelings ran so high that the commandant of the Boston Navy Yard even had his life threatened. Despite an armed guard, a merchant skipper managed, under cover of a violent thunderstorm, to row across Boston Harbor and decapitate the Jackson figurehead. The man personally returned the head to the Secretary of the Navy six months later. The mutilated figurehead was repaired, and graced the CONSTITUTION's bow for some 40 years thereafter.
1835-1838: Served as flagship of the Mediterranean squadron.
1839-1841: Served as flagship of the Pacific squadron.
1842-1843: Served as flagship of the Home squadron.
1844-1851: Circumnavigated the globe 1844-1846, under Captain John Percival, sailing 52,279 miles in 495 days at sea.
1849: Pope Pius IX visited the ship in Naples, Italy; the first Pontiff to step on U.S. territory.
1851-1852: Laid up at New York.
1853-1855: Sails for the last time as flagship of the African Squadron. Also patrolled the West African coast looking for slave traders.
1855-1860: Laid up at the Navy Yard in Portsmouth, N.H., for conversion into a training ship.
1860: August 1 -- Began decade-long stint as a school ship at the U.S. Naval Academy in Annapolis, MD.
1861: April 21 -- Following threats to safety at the outbreak of the Civil War, the

Navy ordered the CONSTITUTION towed to New York. As preparations were being made for departure, a regiment of Massachusetts volunteers arrived in the harbor aboard the steamer Maryland. Three companies of soldiers, including many from Marblehead, were placed on board the to help get under way. Unfortunately, both the CONSTITUTION and the Maryland, which was acting as a tow ship, ran aground in bad weather. In the darkness, and after some difficulty, the CONSTITUTION was towed by a third ship, the steamer Boston, to safety in deep water. On April 26 left on the three-day trip to New York under tow by the steamer R.R. Cuyler.
1861-1865: Transferred to Newport, R.I., with the rest of the Naval Academy and resumed duty as a training ship for the duration of the Civil War.
1865: Moved back to Annapolis with the Naval Academy after the end of the war. During the voyage CONSTITUTION proved faster than tug and was allowed to continue alone and under sail. At one point, despite age, speed was recorded at 13.5 knots.
1871-1877: In 1871, went to the U.S. Navy Yard in Philadelphia for extensive restoration. Plans were for 1876 exhibition in Philadelphia but work delays missed deadline.
1877-1878: Served as a training ship at Philadelphia yard.
1878-1879: Last cruise in foreign waters. Carried American exhibits for the Paris Exposition, docking in Le Havre, France. Stayed in Le Havre for nine months waiting to carry the exhibits back to the U.S.
1879: January 16 -- While returning from France, ran aground off Swanage, England. Pulled free by British tug.
1879: May 24 -- Arrived home in New York.
1879-1881: Sailed Atlantic from West Indies to Nova Scotia as a training ship for apprentices. This was the end of career on the high seas.
1882-1897: Laid up at the U.S. Navy Yard, Portsmouth, N.H., serving as receiving ship. A barracks was built on top of the hull. Some repairs were made before transfer to Boston.
1897: Arrived at Navy Yard, Boston, prior to 100th birthday. This was brought about in part because of the efforts of Massachusetts Congressman John F. Fitzgerald, grandfather of President John F. Kennedy.
1897-1900: On exhibition at the U.S. Navy Yard, Boston.
1900: Feb. 14 -- Congress authorizes repairs to restore CONSTITUTION's hull and rigging to the condition it had been in when it was on active duty.
1907: The repairs include removing the barracks-like structure for main deck, and replacing rigging, spars, masts and some woodwork. Also, is outfitted with replica guns in preparation for being opened to the public as a national monument.
1925-1927: A 'Pennies' campaign for funds and material is begun -- the initiative of the Secretary of the Navy, Curtis Wilbur. Numerous patriotic organizations and the nation's children respond by contributing over a hundred thousand dollars, much of it in pennies. US Navy Sailors, Marines and Coast Guard donate $31,000.
1927: June 16 -- Docked for complete reconstruction in the same dock as was the first to enter on June 24, 1833.
1927-1930: During an extensive restoration period, much decayed timber is replaced and the interior of the hull given extensive additional support.
1930: March 16 -- CONSTITUTION is floated out of drydock, repairs nearly completed.
1931: July 2 -- CONSTITUTION leaves Boston for the first time in half a century for a goodwill tour of ports on the New England coast. Due to overwhelming popularity, continues the tour to include the West coast.
1931-1934: Under Commander Louis J. Gulliver visits 90 ports and welcomes more than 4.5 million visitors -- 2 million in California alone. The tour goes as far north as Bar Harbor, Maine, and Bellingham, Wash., and as far south as the Panama Canal. Towed the by minesweeper USS GREBE and BUSHNELL.
1934: May 7 -- Returns to Boston and has remained ever since except for duty as America's Ship representing Naval heritage.
1954: 23 July -- An act is passed (Public Law 83-523) that states in part, "The Secretary of the Navy is authorized to repair, equip, and restore the United States Ship CONSTITUTION, as far as may be practicable, to original condition, but not for active service, and thereafter to maintain the United States Ship CONSTITUTION at Boston, Massachusetts."
1992: Sept. 25 -- Drydocked at the Old Navy Yard in Boston for a major repair that was completed in 1997.
1995: Sept. 26 -- Floated out of the drydock.
1997: July 21-- CONSTITUTION sails for the first time in 116 years. The sail was conducted just outside Boston Harbor under the command of Commander Michael C. Beck. The sail complement was six.
1997: October 21 -- CONSTITUTION celebrates Bicentennial. The crewmembers parade from CONSTITUTION's 'birthplace' (Coast Guard Integrated Support Command) to the Old South Meeting House.
1998: July 21 - 23 -- Naval vessels and tall ships from around the world come to Boston Harbor and honor CONSTITUTION during the bicentennial. The Deputy Secretary of Defense breaks his flag in 'Old Ironsides' and returns the salute from visiting warships.
The ship receives a blessing, and a wreath is laid at the grave site of CONSTITUTION's first commanding officer, Samuel Nicholson, at Old North Church.