---
T h e T r a i l o f T e a r s
---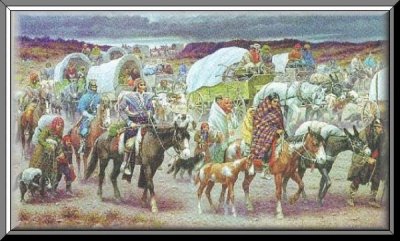 Painting by Robert Lindneux
Woolaroc Museum, Bartlesville, Oklahoma
Overview of Trails
United States
and
Cherokee Treaties
Leading to the Trail of Tears
1785 - 1835
Banishment -- 1838-1839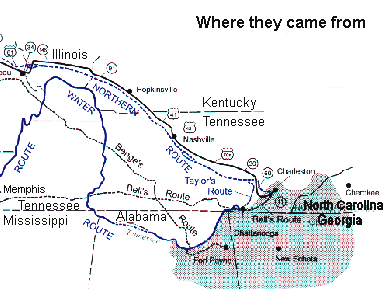 The Routes to Oklahoma, Where they came from.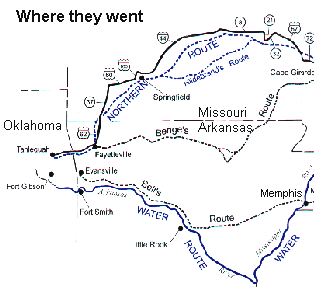 The Routes to Oklahoma, Where they went.
New Echota, Georgia
Although many different treaties led to the relocation of Native Americans to the Oklahoma Territory the most famous is the Treaty of New Echota which was signed with the Cherokee at New Echota, Georgia. The list at the bottom of this page shows many different treaties signed just with the Cherokee over a fifty year span.
The Treaties of Hopewell, Holston, and New Echota are included here. Others are available on the Internet and in libraries.
The first three detachments of exiled Cherokee left by water in June, 1838. They left under military supervision, before the Cherokee asked for and were granted permission to supervise their own migration.
Twenty-eight hundred Cherokee were divided into three detachments, each accompanied by a military officer, a corps of assistants, and two physicians. The first group, with about 800 in the party, departed June 6. The other two detachments starting after the fifteenth of June.
The three detachments traveled the water routes (see the route to Oklahoma above) and are thought to have experienced a much higher rate of deaths and desertions.
Trail of Tears Timeline
1838
February
15,665 people of the Cherokee Nation petition congress protesting the Treaty of New Echota.
March
Outraged American citizens throughout the country petition congress on behalf of the Cherokee.
April
Congress tables petitions protesting Cherokee removal. Federal troops ordered to prepare for roundup.
May
Cherokee roundup begins May 23, 1838. Southeast suffers worst drought in recorded history. Tsali escapes roundup and returns to North Carolina.
June
First group of Cherokee driven west under Federal guard. Further removal aborted because of drought and "sickly season."
July
Over 13,000 Cherokee imprisoned in military stockades awaiting break in drought. Approximately 1500 die in confinement.
August
In Aquohee stockade, Cherokee chiefs meet in council, reaffirming the sovereignty of the Cherokee Nation. John Ross becomes superintendent of the removal.
September
Drought breaks: Cherokee prepare to embark on forced exodus to Indian Territory in Oklahoma. Ross wins additional funds for food and clothing.
October
For most Cherokee, the "Trail of Tears" begins.
November
Thirteen contingents of Cherokee cross Tennessee, Kentucky and Illinois. First groups reach the Mississippi River, where crossing is held up by river ice floes.
December
Contingent led by Chief Jesse Bushyhead camps near present day Trail of Tears Park. John Ross leaves Cherokee homeland with last group: carrying the records and laws of the Cherokee Nation. 5000 Cherokee trapped east of the Mississippi by harsh winter; many die.
1839
January
First overland contingents arrive at Fort Gibson. Ross party of sick and infirmed travel from Kentucky by riverboat.
February
Chief Ross's wife, Quati, dies near Little Rock, Arkansas on February 1.
March
Last group headed by Ross, reaches Oklahoma. More than 3000 Cherokee die on Trail of Tears, 1600 in stockades and about the same number en route. 800 more die during 1839 in Oklahoma.
April
Cherokee build houses, clear land, plant and begin to build a new nation.
May
Western Cherokee invite new arrivals to meet to establish a united Cherokee government.
June
Old Treaty Party leaders attempt to foil reunification negotiations between Ross and Sequoyah. Treaty Party leaders Major John Ridge and Elias Boudinot assassinated.
July
Cherokee Act of Union brings together the eastern and western Cherokee Nations on July 12, 1839.
August
Stand Watie, Brother of Boudinot, pledges revenge for deaths of party leaders.
September
Cherokee constitution adopted on September 6, 1839. Tahlequah established as capital of the Cherokee Nation.
---
Lsit of treaties signed with the Cherokee:
Treaty of Hopewell, Nov. 28, 1785

Treaty of Holston, July 2, 1791

Treaty of Philadelphia, Feb. 17, 1792

Treaty of Philadelphia, June 26, 1794

Treaty of Tellico, Oct. 24, 1804

Treaty of Tellico. Oct. 25, 1805

Treaty of Tellico, Oct. 27, 1805

Treaty of Washington, Mar. 22, 1816

Treaty of Chickasaw Council House, Sept. 14, 1816

Treaty of Cherokee Agency, July 8, 1817

Treaty of Washington. Feb. 27, 1819

Treaty of Washington, May 6, 1828

Treaty of Washington, Mar. 14, 1835

Treaty of New Echota, Dec. 29, 1835
---
Painting of Cherokee on The Trail of Tears,
by Robert Lindneux, in the Woolaroc Museum, Bartlesville, Oklahoma

Additional information is available at http://rosecity.net/dfarrow.html
Rose City Net, 1978 Longview St., Cape Girardeau, MO 63701: lea1223@ldd.net

---
Use Browser « Back Button To Return To Last Page Visited

Copyright (1998 - 2000): Concord Learning Systems, Concord, NC.
All rights reserved. For details and contact information:
See License Agreement, Copyright Notice.