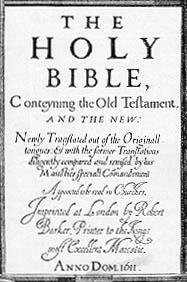 The Holy Bible, King James Version
Old and New Testaments,
with the Apocrypha
The Electronic Text Center,
University of Virginia
---
Conditions of Use
---
View a "frames" side-by-side presentation of the King James and Revised Standard Bibles, for easy comparison.
---
New Testament
---
Although the writings known as the Apocrypha are often not included in Protestant Bibles, they were translated and included in the original King James Bible of 1611, and they are offered here for use by interested readers.
---
---
This text was originally created at the University of Pennsylvania by Robert A. Kraft, was made available to us by the Oxford Text Archive, and is presented here in a searchable SGML form by the Electronic Text Center, University of Virginia Library.