". . .this I can venture to advance from a thorough knowledge of him, that there are few men to be found, of his age, who has a more general knowledge than he possesses, and none whose Soul is more firmly engaged in the cause, or who exceeds him in probity and Sterling virtue."

Departing Washington's staff he stayed with his wife and her family at the Schuyler residence in Albany. There he read and studied political issues. Many months passed and as he became less content to keep his ideas private, he began writing his first formal essays on the American government. "The Continentalist," as he named his six-part series, was published in the New York Packet and the American Advertiser, and treated the public to their first taste of Hamiltonian politics.

While his essays were in process, Hamilton was in transit. Washington and Rochambeau were planning a decisive strike on the British; and Hamilton, ever hopeful of seeing action, rode off to Dobbs Ferry NY to rejoin the army. This time, Washington gave him his long-awaited command, that of the New York and Connecticut light infantry battalion, with orders to lead an assault on British redoubt number 10 at Yorktown. On October 14, Hamilton and his battalion did just that. The redoubts were taken, and Cornwallis surrendered his forces to Washington on October 19, 1781.

Hamilton took part in the surrender ceremonies, and then departed for Albany to rejoin his wife, who was due to have their first child, Philip, in January. On March 1, 1782, Hamilton resigned from active military duty and embarked on a career which propelled him into history as a Founding Father.

Post War years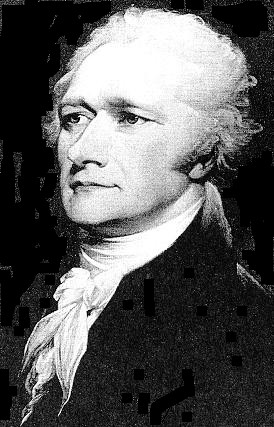 At twenty-seven, with the Revolutionary War over, Hamilton began a non-military career. After three months of intensive study of the law in Albany, New York, Hamilton was admitted to the bar in July of 1783. Then, after the British army evacuated New York City, he opened his law office at 57 Wall Street. Hamilton also continued with his political endeavors. He served in Congress from 1782 to 1783, was elected to the Continental Congress, and founded the Bank of New York in February of 1784.
Once elected, Hamilton remained politically active all of his life. He prepared but did not present a proposal calling for a convention with full powers to revise the Articles of Confederation. Instead, he became one of the prime movers for calling the Annapolis Convention. At the Annapolis Convention in September of 1786, Hamilton served as one of three delegates from New York. He supported Madison in inducing the Convention to exceed its delegated powers and personally drafted the call to summon the Federal Convention of May 1787 at Philadelphia. At that Convention, Hamilton again represented New York as one of three delegates.
Hamilton's own presence at the Convention was limited. His colleagues from New York represented converse political views from Hamilton. They chose to withdraw from the convention, leaving New York without an official delegation and Hamilton without a vote. However, he did make one remarkable speech on June 18th, 1787. In this he attacked the states' rights proposal of William Paterson. In this speech he upheld the British government as the best model from the world for the colonists to use. He advocated that the best solution lay in an aristocratic, strongly centralized, coercive, but representative union with devices that would give weight to class and property. Apart from this, Hamilton was largely absent from the convention, having left on June 30, 1787. Washington wrote him saying, "I am sorry you went away. I wish you were back." At the close of the Convention, Hamilton returned to sign the Constitution for his state.
Hamilton immediately began to use his talents to secure adoption of the Constitution. He was the first to publish a letter in the Constitution's defense, an article in the New York Independent Journal on Oct. 2, 1787, only two weeks after the Constitution was signed. He was one of three authors of The Federalist Papers. This work remains a classic commentary on American constitutional law and the principals of government. Its inception and approximately three-quarters of the work are attributable to Hamilton (the rest belonging to John Jay and James Madison). Hamilton also won the New York ratification convention vote for the Constitution against great odds in July 17-July 26, 1788. Chancellor James Kent stated that "all of the documentary proof and the current observation of the time lead us to the conclusion that he surpassed all of his contemporaries in his exertions to create, recommend, adopt and defend the Constitution of the United States."
During Washington's presidency, Hamilton became the first secretary of the Treasury. In this position he secured the traditional strength of American finance. He is chiefly responsible for establishing the credit of the United States, both at home and abroad. His Report on the Public Credit, Jan. 14, 1790, constituted a watershed in American history. It marked an end of an era of bankruptcy and repudiation. His Report on a National Bank, Dec. 13, 1790, advocated a private bank with semipublic functions and was patterned after the Bank of England. His Report on Manufacturers, 1791, itself entitles Hamilton to a position as an epoch economist. It was the first great revolt from Adam Smith's Wealth of Nations (1776). In part, it argued for a system of moderate protective duties associated with a deliberate policy of promoting national interests. The inspirations from this work became England's official economic policy and remains the primary foundation of the German economic system. His masterly opinion on the implied powers of the Constitution persuaded Washington of the Constitutionality of the bank. Hamilton's views were adopted almost word for word in McCulloch v. Maryland, 17 U.S. 316, 4 L.Ed. 579, 4 Wheat. 316 (1819).
Hamilton sometimes overstepped the limits of his office in interfering with other departments. For instance, serious differences between Jefferson and Hamilton developed in the field of foreign affairs. When the French Revolution turned into war against all of Europe, and the French Republic sought to involve the United States, Hamilton advocated strict neutrality, which Washington proclaimed on April 22, 1793. Hamilton defended the proclamation in his "Pacifist" letters and attacked two succeeding French prime ministers for their interference in American domestic affairs. The United States has retained this policy of neutrality in foreign affairs to this day.
Hamilton also became the esteemed leader of one of the two great political parties of the time, the Federalists. Once after a political victory achieved through a series of letters known as the "Camillus essays," (1795-96) Jefferson wrote despairingly about Hamilton to Madison saying that Hamilton was "really a colossus to the anti-republican party."
On January 31, 1795 Hamilton resigned from his position of Secretary of the Treasury and returned to the practice of law in New York. Despite his resignation, Hamilton remained Washington's chief advisor through a continual interchange of letters. Typical of the relationship, Hamilton wrote Washington's Farewell Address in 1796.
Two years later, Hamilton returned to military service at the age of forty-three. Here, he served as active head of the army under Washington that was organized for the impending war with France. Washington himself insisted that Hamilton serve in that position as a condition of accepting the position. Hamilton served from July 25, 1798 to June 2, 1800.
After the death of George Washington, the leadership of the Federalist Party became divided between John Adams and Hamilton. John Adams had the prestige from his varied and great career and from his great strength with the people. Conversely, Hamilton controlled practically all of the leaders of lesser rank and the greater part of the most distinguished men in the country.
In 1802 Hamilton and his family moved into The Grange, a country home he had built in a rural part of Manhattan not far north of New York City. But the expenses involved and investments in northern land speculations seriously strained his finances.
Hamilton, by himself, was not a leader for the population. He once said that his heart was ever the master of his judgment. He was indiscreet in utterance, impolitic in management, opinionated, self-confident, and uncompromising in nature and methods. Three times Hamilton used the political fortunes of John Adams in presidential elections as a mere hazard in his maneuvers. After Adams became President Hamilton constantly advised the members of the cabinet and endeavored to control Adams's policy. On the eve of the presidential election of 1800, Hamilton wrote a bitter personal attack on the president that contained much confidential cabinet information. Although this pamphlet was intended for private circulation, the document was secured and published by Aaron Burr, Hamilton's political and legal rival.
Hamilton seems to have read Burr's character correctly from the beginning. Based on his opinion of Burr, Hamilton deemed it his patriotic duty to thwart Burr's ambitions. First, Hamilton defeated Burr's hopes of successfully completing a foreign mission. Later, Hamilton ended Burr's goal of attaining the presidency. In the election, Burr was tied in votes for the presidency with Jefferson. Thus, the final vote was thrown onto the lame-duck House of Representatives, which was strongly Federalist. Hamilton urged the House to side with Jefferson, a Democratic-Republican, who consequently won the election. Last, Burr wished to attain the governorship of New York. Failing to get the Democratic-Republican nomination, Burr, true to his character, solicited the aide of the Federalists. Hamilton denounced Burr as "a man of irregular and unsatiable ambition -- who ought not to be trusted with the reins of government." The denunciations seem to have been largely ignored by Burr until this last defeat. After that, Burr forced a quarrel between the two stating that Hamilton said he had a "despicable" opinion of Burr. Burr challenged Hamilton to a duel. Before going to this confrontation, Hamilton wrote a letter stating that a compliance with the dueling prejudices of the time was inseparable from the ability to be useful in future public affairs. The duel was fought at Weehawken on the New Jersey shore of the Hudson River opposite New York City. At forty-nine, Hamilton was shot, fell mortally wounded, and died the following day, July 12th, 1804. It is unanimously reported that Hamilton himself did not intend to fire, his pistol going off involuntarily as he fell. Hamilton was apparently opposed to dueling following the fatal shooting of his son Philip in a duel in 1801. Further, Hamilton told the minister who attended him as he laid dying, "I have no ill-will against Col. Burr. I met him with a fixed resolution to do him no harm. I forgive all that happened." Hamilton's death was very generally deplored as a national calamity.
A summary of his beliefs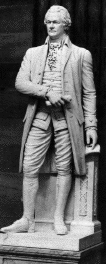 Hamilton's mind was eminently legal. His writings are distinguished by their clarity, vigor and rigid reasoning rather than any show of scholarship. In his earliest writings of 1774-75, he started out with the ordinary pre-Revolutionary War Whig doctrines of natural rights and liberty. After the War's conclusion, his experiences of semi-archaic states' rights and individualism ended his earlier fervor. Hamilton saw the feeble inadequacies of conception, the infirmity of power, factional jealousy, disintegrating particularism, and vicious finances that marred the Confederation. No other author saw more clearly the concrete nationalistic remedies for these concrete ills or pursued remedial ends so constantly and consistently as Hamilton. He wanted a strong union and energetic government that should "rest as much as possible on the shoulders of the people and as little as possible on those of the state legislatures."
As early as 1776, he urged the direct collection of federal taxes by federal agents. In 1781 he created the idea that a non-excessive public debt would be a blessing. He conceived the constitutional doctrines of liberal construction, "implied powers," and the "general welfare," which were later embodied in the decisions of John Marshall.
Liberty, he reminded his fellows, in the New York Convention of 1788, seemed to be the only consideration for the new government. Hamilton pointed out another thing of equal importance; "a principal of strength and stability in the organization … and of vigour in its operation."
Hamilton's notion of a strong national government did err on the side of oppression at times. This is best evidenced by his warm support for the final form of the Alien and Sedition Laws of 1798. Hamilton did not agree with Jefferson that the general public should control government. "Men," he said, "are reasoning rather than reasonable animals." His last letter on politics, written two days before his death, illustrates the two sides of his thinking already emphasized; in this letter he warns his New England friends against dismemberment of the union as "a clear sacrifice of great positive advantages, without any counterbalancing good; administering no relief to our real disease, which is democracy, the poison of which, by a subdivision, will only be more concentrated in each part, and consequently the more virulent."
No judgment of Hamilton is more justly measured than James Madison's written in 1831.
"That he possessed intellectual powers of the first order, and the moral qualities of integrity and honor in a captivating degree, has been awarded him by a suffrage now universal. If his theory of government deviated from the republican standard he had the candour to avow it, and the greater merit of co-operating faithfully in maturing and supporting a system which was not his choice."
---
Also see Trial of Aaron Burr
---
SOURCES:

James Bryce, PREDICTIONS OF HAMILTON AND DE TOCQUEVILLE (Baltimore 1887).

J.C. Hamilton, LIFE OF ALEXANDER HAMILTON, BY HIS SON (New York 1834-40)(written by his son and detailing his life up to 1787, an unfinished work).

J.C. Hamilton, HISTORY OF THE REPUBLIC . . . AS TRACED IN THE WRITINGS OF ALEXANDER HAMILTON (New York 1857-64; 4th ed. Boston 1879).

Prof. W.G. Sumner, ALEXANDER HAMILTON (Makers of America Series, New York 1890).

C.J. Riethmuller, HAMILTON AND HIS CONTEMPORARIES (1864)(Written during the Civil War).

Mrs. Gertrude Atherton, THE CONQUEROR (New York 1902)(a historic romance detailing a number of obscure facts on Hamilton).

F.S. Oliver, ALEXANDER HAMILTION: AN ESSAY ON AMERICAN UNION (London 1906)(a widely acclaimed work).
---