---
David Crockett - Biography
A Tennessean at The Alamo

August 17, 1786 - March 6, 1836
---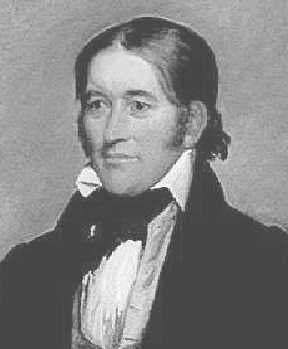 David Crockett, pioneer, patriot, soldier, trapper, explorer, state legislator, congressman, and martyr, was born in a small cabin near the junction of Limestone Creek and the Nolichucky River in upper East Tennessee, August 17, 1786. He was the fifth son of nine children born to John and Rebecca Hawkins Crockett.
His father, John Crockett, was born in Maryland in 1754 and was a descendant of Huguenot ancestors who had immigrated from France to Ireland and America. In America their migration continued from Maryland to Virginia, North Carolina, Tennessee, and Texas. The name originally was Crocketagne, and the progenitor of the American Crocketts had been the second in command of the Home Guard for Louis, King of France. Line of descent was: Gabriel Gustave De Crocketagne, Antoine De Sauss Crocketagne, Joseph Louis Crockett, William Crockett, David Crockett, John Crockett, and David "Davy" Crockett. The senior David Crockett married Elizabeth Hedge in Maryland. Their sons were John, William, Robert, Joseph, and James. The Crocketts migrated to the area which became East Tennessee but was then part of North Carolina. They settled in the Watauga region.
On July 5, 1776, a petition from the settlers of Watauga was sent to the Provisional Council of North Carolina requesting recognition for their efforts toward establishing effective local government. The petition, signed by David Crockett, Sr., and William Crockett, asked North Carolina to recognize Watauga's government and militia.
John, William, and Robert Crockett fought in the Battle of King's Mountain during the Revolutionary War. During their sons' absence, David Crockett, Sr., and his wife, Elizabeth, were killed by an Indian attack. All of their children were killed, except for two sons, Joseph and James, and one daughter, who was scalped but survived. Joseph and James were taken captive by the Indians.
John Crockett had married Rebecca Hawkins in Maryland and immigrated with the rest of the family to the East Tennessee area. Rebecca Hawkins Crockett was to move many times, including the relocation during her marriage, and as she followed her son, David through his moves to several locations in Middle Tennessee. Finally she moved to be near him in Gibson County. Rebecca is buried in the Memorial Plot near Davy's reconstructed log cabin in Rutherford, Gibson County, Tennessee.
John Crockett served under Colonel Isaac Shelby in the Battle of King's Mountain, and was presiding magistrate when Andrew Jackson received his license to practice law. He was a commissioner for building roads and, in 1783, a Frontier Ranger. His name appears on the 1783 tax list of Greene County, Tennessee. John Crockett lived on Limestone Creek in Greene County when David Davy Crockett was born, and a few years later moved to a place in the same county ten miles north of Greenville. The next move was to Cove Creek, where he built a mill in partnership with Thomas Galbraith. In 1794, his mill and house were destroyed by a flood. John Crockett moved his family to Jefferson County (now Hamblen County), built a log cabin-tavern on the road from Abingdon, Virginia to Knoxville, Tennessee, and continued to live there until his death.
Davy remained with his family until the age of twelve. By this time he had grown in size and he was given a job driving cattle to Front Royal, Virginia. After arriving there he worked for farmers, wagoners, and a hatmaker. He was offered a job driving cattle to Baltimore, and he lived there until he reached the age of fifteen. Whether remnants of the Crockett and Hawkins family were still living in the area has not been documented, but we can assume that he had relatives there.
Crockett returned to his family home to find his father in debt. Now six feet tall, he was well able to do the work of a man and he obligated himself for a year to Col. Daniel Kennedy, his father's creditor. Daniel Kennedy was the son of John Kennedy, Esq. who has been called, "The Father of Greene County." The Kennedy family were Quakers, and were held in high esteem throughout the eastern part of Tennessee.
David Crockett often borrowed the rifle of his employer and became an excellent marksman. From wages earned he bought new clothes, a rifle of his own, and a horse. He began to take part in the local shooting contests where the prize was often quarters of beef. Contestants paid twenty cents for a single shot at a target for a prize quarter of beef. Davy's aim was so good that often he won all four prizes.
The son of his employer conducted a school nearby, and an arrangement was worked out for a period of six months for David to attend school for four days and work for two days. Excepting the four days he had when he was twelve years old, this was the only formal schooling Crockett ever had.
On August 12, 1806, Davy married Mary Polly Finley. He and his new wife moved into the Duck and Elk River area of Lincoln County, Tennessee. They located near the head of Mulberry Fork, where he began to distinguish himself as a hunter. They lived there during the years of 1809-1810. His two sons, John Wesley and William Finley, were born there.
In 1811 the Crockett family moved to he south side of Mulberry Creek near Lynchburg where David build a log house and where his family lived till 1813. He hunted and cleared a field three miles northwest of his homestead on Hungry Hill. When bear and other game became scarce, he moved to better hunting grounds in Franklin County where he settled on Beans Creek and built a homestead which he called "Kentuck." This was the Crockett home until the close of the War of 1812. This homestead is marked by a water well standing in a field 3 1/2 miles south and to the east of U.S. Highway 64 in Franklin County.
When the Creek Indians opened hostilities and attacked Fort Mimms on August 30, 1812, the Militia was called for the purpose of raising volunteers. Davy Crockett volunteered and was assigned to Captain Jones' Mounted Vols. He went to Beatty Springs and from there continued with Major Gibson across the Tennessee River into the Creek nation as a spy. For a partner he chose the major's son George. They returned safely and reported to General Coffee, who was in command. Crockett and 800 volunteers of General Coffee's command crossed the Tennessee river through Huntsville, Alabama. Davy ask permission of General Coffee to go hunting, and on the river to Muscle Shoals and Melton's Bluff, he killed a bear. David Crockett fought in the Battles of Fort Strother and Talledega, took part in the Florida Expedition, and rejoined General Russell to do battle with the British. Upon his return home to Franklin County, in 1815, he found his wife, Polly, dying. Polly Finley Crockett is buried in an old cemetery overlooking Bean's Creek.
In 1816, David Crockett married Elizabeth Patton, widow of George Patton, with two small children. David and Elizabeth Patton lived in "Kentuck" till 1817, when he moved to Lawrence County, Tennessee.
Lawrence County was created, October 21, 1817, by an act of the Tennessee General Assembly from mostly Indian Territory as a result of a Treaty with the Chicasaw Indians in 1816. Local government was established in 1818. In 1819 Davy was instrumental in helping to lay out the county and in selecting the county seat of Lawrenceburg. The site was chosen because of its proximity to the center of the county, and the fact that Jackson's Military Road ran on the eastern edge of the town. In April, 1821, the road was changed to go through the center of the town. This road was a major thoroughfare from Nashville, Tennessee to Natchez, Mississippi, and played a significant role in the development of the county.
Crockett was one of the first commissioners and justices of the peace in Lawrence County. He ran a water-powered grist mill, powder mill, and distillery in the area of the county that is now David Crockett State Park. He was elected Colonel of a regiment and, from that time, was known as Colonel Crockett. He was elected to the Legislature in 1821. After his term in office, he returned home and shortly thereafter a flood destroyed his installation and bankrupted him. He decided to move further west and left for Gibson County, Tennessee, leaving the remains of his property to his creditors.
In the spring of 1822 he arrived in Gibson County and built what was to be his last home. He chose land about four and one half miles east of Rutherford. Using some of the logs from that cabin, a replica has been constructed in the town of Rutherford that houses a museum. Davy's mother, Rebecca Hawkins Crockett, is buried on the grounds.
David Crockett ran for the Legislature in 1823 and his keen and quick wit earned him the respect of the frontiersmen in the area. He used his backwoodsman persona to entertain his audiences wherever he spoke. His opponent was Dr. W. E. Butler who was married to the niece of Mrs. Andrew Jackson. However, the new settlers liked the man that they called their own and elected him. It was David Crockett who introduced the bill to form Gibson County, in 1823.
During a trip to Philadelphia, in 1823, David Crockett was presented his famous long rifle "Betsy" which contained the following inscription; "Presented to the Honorable David Crockett of Tennessee by the young men of Philadelphia." This inscription is on the barrel in gold, and near the sight is the motto, "Go Ahead" in letters in silver.
In 1826, David Crockett ran against Colonel Adam Rankin Alexander and Major General William Arnold, both of Jackson. His opponents ran a joint campaign and chose not to mention David Crockett in their speeches. The people did not ignore him, but reelected him by a majority of 2,748. He was their advocate for their "squatters rights" in the district. Davy preferred to call them settlers.
In 1829 the popularity of David Crockett was at such a peak that his opposition looked hard for a man that they thought could beat him. Captain Joel Estes, of Haywood County and Colonel Adam Alexender were his opponents. The heated races received much publicity over a wide region. The results -- Crockett, 8525; Alexander, 5000; and Estes, 132. Crockett now felt that he was in position to promote some of his preferences. He broke with the administration on the Bank question, and the Cherokee relocation. His dislike of Andrew Jackson probably dated back to the Creek War and Jackson's rigorous treatment of his Tennessee troops. However, the break was not received well back in his frontier country. The people of the area had a strong liking for Jackson. When Crockett returned home, he found that some strong feelings had developed against him for his stands.
On election day Crockett found that he had lost by a narrow majority to William Fitzgerald of Dresden. Crockett called the election a campaign of trickery. His opponents had announced that Davy was to speak at several places and not knowing of the arrangement he did not appear. This left the settlers displeased and, it is believed, was the reason for his defeat.
When the 1833 elections came supporters of Andrew Jackson passed legislation that reconstructed the district in such a way as to give advantage to his opponent, William Fitzgerald. This gerrymandering was called by Crockett, "the most unreasonable every laid off in the nation, or even to-total creation." The battle was hard fought, but Davy won the election. Back in Congress, he boasted, "Look at my neck, and you will not find any collar with a label, 'My Dog, Andrew Jackson.' "
When the tallied results of the 1836 election were announced Crockett had lost by a narrow majority and he retired to his frontier home to contemplate his future. The "people's friend" decided to answer the call for volunteers to help with the Texas fight for independence.
By 1830 more than 20,000 Americans had migrated to Texas seeking a place to settle and David Crockett, ever looking for new frontiers to conquer, was a prime candidate to assist in the settlement. "As the country no longer requires my services, I have made up my mind to go to Texas. I start anew upon my own hook, and God grant that it may be strong enough to support the weight that may be hung upon it." He left behind wife, children, mother and siblings to take his place in American history.
In 1718, at a native American village in a pleasant wooded area of spring fed streams at the southern edge of Texas Hill country, Spain established the Mission San Antonio de Verlero (later called "The Alamo"). A barracks called San Antonio de Bexar was built to protect the mission. This was more than half a century before the founding of the United States.
In December, 1835, San Antonio de Bexar was under the control of Mexican General Perfecto de Cos with about 1200 soldiers from Mexico. At daybreak, on the 5th, Texans who had been camped outside the fort, begin a siege of the fort. Against heavy odds both men and artillery skirmished for the next two days. On the 7th, the Texan leader, Ben Milam, was killed and the Texans, inspired to avenge his death, engaged in house to house combat that continued for two more days. At daybreak, on the 9th, General Cos signaled a Mexican truce. The Texans gained all the public property, guns and ammunition.
Mexican General Santa Anna determined to retake San Antonio and impress upon the settlers the futility of further resistance to Mexican rule. The vanguard of his army arrived in San Antonio, February 23, 1836. The 145 Texans in the area took refuge in the fortified grounds of the old mission known as "The Alamo." Their leaders were William B. Travis, for the regulars; and Jim Bowie, for the volunteers.
General Santa Anna's army continued to grow over the following two weeks to about 2,000 troops. Travis made an appeal for aid from the other Texans in the area. A few reinforcements arrived, making the final total of 189 men. David Crockett was probably among these last recruits.
After bombarding the mission, the Mexicans stormed the walls. At 6:30 a.m., March 6, 1836, The Alamo was taken. Losses in the battle have been placed at 189 Texans and 1600 Mexicans.
Several conflicting stories recount the final hours of the storming of The Alamo, but it is generally agreed that the remains of the defenders were piled in a pier and burned in the square. In November, 1836, Colonel Juan Sequin of the army of the Republic of Texas reoccupied San Antonio and in February, 1837, he held a funeral for the defenders. He reported finding two small heaps and one large heap of ashes. Ashes from the small heaps were put in a coffin and used in a funeral procession to the church and back, salutes were fired over each heap and a service was read at the large heap. A specific burial place has not been determined. Some cremated remains unearthed on the grounds of San Fernando Cathedral are entombed near the front entrance of the church.
Forty six days after the siege of the Alamo, April 21, 1836, at the Battle of San Jacinto at Goliad, 783 men led by General Sam Houston defeated General Santa Anna's 1,500 Mexican troops. The battle lasted only eighteen minutes. Nine Texans lost their lives. The loss for the Mexicans were 630 dead, and 730 prisoners. General Santa Anna, disguised as a peasant, was captured the following day.
The Battle of San Jacinto won the independence for Texas and the settlement of the new republic began. All who had fought for independence were granted 640 acres by the new government. In 1853 Elizabeth Patton Crockett arrived in Texas to claim her grant. She was accompanied by Robert Patton Crockett and his family; George Patton and his family; and Rebecca Halford and her family. After the cost of the survey, the land grant had shrunk to 320 acres. Their grant was located about four miles north of a trading post, now called Acton, in what is now Hood County. Elizabeth Crockett was sixty five years old, but continued to do her share of the frontier work. She died at the age of seventy two and her remains, with several members of her family, are in Acton State Park and Monument, the smallest state park in Texas. The monument shows her with shaded eyes looking to the west.
Children of David Crockett and Polly Finley Crockett are: John Wesley Crockett, b. 1808; William Finley Crockett, b. 1809; and Margaret Finley (Polly) Crockett, b. 1812. Children of David Crockett and Elizabeth Patton Crockett are: Rebecca Elvira Crockett, b. 1815; Robert Patton Crockett, b. 1816; and Matilda Crockett, b. 1821.
After David Crockett left for Texas, John Wesley Crockett won two terms in Congress, the seat once held by his father.
---
Compiled by: Margaret Nolen Nichol -- Jacksonville, Florida

---