---
Casa Grande Ruins
National Monument
---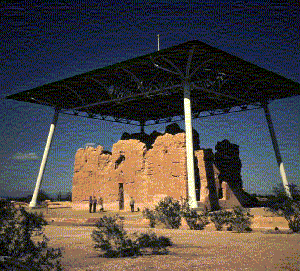 For over a thousand years, prehistoric farmers inhabited much of the present-day state of Arizona. When the first Europeans arrived, all that remained of this ancient culture were the ruins of villages, irrigation canals and various artifacts. Among these ruins is the Casa Grande, or "Big House," one of the largest and most mysterious prehistoric structures ever built in North America. Casa Grande Ruins, the nation's first archeological preserve, protects the Casa Grande and other archeological sites within its boundaries. You are invited to see the Casa Grande and to hear the story of the ancient ones the Pima call the Hohokam, "those who are gone."
VISITATION:


Casa Grande Ruins receives about 165,000 visitors per year. The highest visitation is from January through April; lowest from June through August.

ADDRESS:


Casa Grande Ruins National Monument
1100 Ruins Drive
Coolidge, Arizona 85228

Courtesy
Concord
Learning
Systems
TELEPHONE:


(520) 723-3172
(520) 723-7209 (Fax)

OPERATING HOURS:


Open all year from 8:00 a.m. to 5:00 p.m.; closed December 25.

CLIMATE, RECOMMENDED CLOTHING:


This is desert country. Summer daytime temperatures may exceed 100 degrees. Winter temperatures range from the 60's to the 80's. Spring and fall are warm and dry, with highs in the 80's and 90's.

DIRECTIONS:


The park is in Coolidge, Arizona, about an hour-long drive from either Phoenix or Tucson. From Interstate 10 take the Coolidge exits and follow the signs to the park entrance off Arizona Route 87/287.

TRANSPORTATION:


Transportation to the park is by private vehicle. There is a short walk around the grounds.

FEES, COSTS, RATES:


The entrance fee is $2.00 per person, with a maximum of $4.00 per car. Children 16 and under are admitted free. Golden Eagle, Golden Age, and Golden Access Passport cards are honored.

FACILITIES AND OPPORTUNITIES:
Visitor Center/Exhibits:


There is an information counter, a museum exhibit area, a book store, a public phone, rest rooms, drinking fountains, and a wheelchair available.

Trails, Roads:


The visitor center and parking lot are located at the end of a 7/8 mile long paved entrance road. The site is fully accessible with level paved and packed-dirt surfaces. From the visitor center there is a 300 yard self-guided walking trail around the ruins with wayside signs provided.

Programs/Activities:


There are regularly scheduled guided tours from January through April. Advance-requested guided tours are provided for school and tour groups during the rest of the year depending on staff availability. There is a Junior Ranger activities booklet (sales item) which can be completed for a Junior Ranger badge. Also available are school pre-visit packets for educators.

Lodging and camping facilities:


There are no lodging or camping facilities at the Monument. Lodging and RV/camping facilities are available in nearby Coolidge and the surrounding area.

Food/supplies:


Though not available at the Monument, all food and supplies can be found in Coolidge.

Other Concessions/NPS-Managed Visitor Facilities and Opportunities:


There is a picnic area with covered and uncovered tables, and drinking water is available.

Accessibility:


All facilities and the Ruins Trail are fully accessible.

RECOMMENDED ACTIVITIES/PARK USE:


Take a guided and/or self-guided Ruins tour, view the visitor center museum exhibits, and use the picnic facilities.

RESERVATIONS/PERMITS:


Reservations are recommended for school and tour groups. Special use permits may be required for certain activities.

BASIC VISIT RECOMMENDATIONS:


Allow about an hour to visit the Ruins. During summer months, be prepared for hot temperatures. Protective clothing, hats, sunscreen and personal water containers are highly recommended.

SPECIAL EVENTS, PROGRAMS:


Special archeological tours are offered during the Arizona State Archeology Month in March. On National Parks Day, August 25, entrance fees are waived. During Native American Month in November, special events are held throughout the local area. Special tours and events are occasionally offered through a permit system. Please call for further information.

ADJACENT VISITOR ATTRACTIONS:


Located within a 40-mile radius of Casa Grande Ruins are the following: The Gila River Arts and Crafts Center off I-10 at exit 175; the Coolidge Historical museum in Coolidge; the Pinal County Museum and McFarland State Park in Florence; the Casa Grande Valley Historical Museum in the City of Casa Grande; the Boyce Thompson Arboretum near Superior; Picacho Peak State Park off I-10 at exit 219.
---
SOURCE: Casa Grande Ruins National Monument Web Site
---
Last Updated: June 26, 1997
URL: www.nps.gov/cagr
---