---
Richard II
Plantagenet, Angevin Line -- Reigned: 1377-1399

1367-1400 (Murdered)
---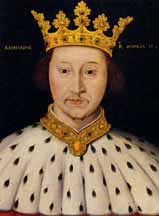 Richard II, born in 1367, was the son of Edward, the Black Prince and Joan, the Fair Maid of Kent.
Richard was but ten years old when he succeeded his grandfather, Edward III. England was then ruled by a council under the leadership of John of Gaunt, and Richard was tutored by Sir Simon Burley. He married the much-beloved Anne of Bohemia in 1382, who died childless in 1394. Richard remarried in 1396, wedding the seven year-old Isabella of Valois, daughter of Charles VI of France, to end a further struggle with France.
Richard asserted royal authority during an era of royal restrictions. Economic hardship followed the Black Death, as wages and prices rapidly increased. Parliament exacerbated the problem by passing legislation limiting wages but failing to also regulate prices.
In 1381, Wat Tyler led the Peasants' Revolt against the oppressive government policies of John of Gaunt. Richard's unwise generosity to his favorites -- Michael de la Pole, Robert de Vere, and others -- led Thomas, Duke of Gloucester, and four other magnates to form the Lords Appellant. The five Lords Appellant tried and convicted five of Richard's closest advisors for treason.
In 1397, Richard arrested three of the five Lords, coerced Parliament to sentence them to death and banished the other two. One of the exiles was Henry Bolingbroke, the future Henry IV. Richard travelled to Ireland in 1399 to quell warring chieftains, allowing Bolingboke to return to England and be elected king by Parliament. Richard lacked support and was quickly captured by Henry IV.
Deposed in 1399, Richard was murdered while in prison, the first casualty of the Wars of the Roses between the Houses of Lancaster and York.
Other Information:
Born: 6 January 1367 at Bordeaux, Gascony
Murdered: 14 February 1400 at Pontefract Castle, Yorkshire
Buried: Westminster Abbey, Middlesex
Parents: Edward, Prince of Wales - "the Black Prince" - and Joan, the "Fair Maid of Kent"
Siblings: Edward of Angouleme
Crowned: 16 July 1377 at Westminster Abbey, Middlesex
Abdicated: 29 September 1399
Married:
(1st) 14 January 1382 at St. Stephen's Chapel in the Palace of Westminster, Middlesex
(2nd) 4th November 1396 at Calais
Spouse:
(1st) Anne, daughter of Charles IV, Holy Roman Emperor & King of Bohemia
(2nd) Isabella, daughter of Charles VI, King of France
Offspring: None
Named Heir: His cousin, Edmund Mortimer, 5th Earl of March
Contemporaries:
Wat Tyler
Robert de Vere, Earl of Oxford
Michael de la Pole
Richard FitzAlan, Earl of Arundel
Thomas Beauchamp, Earl of Warwick
John of Gaunt, Duke of Lancaster
Thomas of Woodstock, Duke of Gloucester
Henry Bolingbroke (Henry IV), Earl of Derby
Geoffrey Chaucer
---