---
John, Lackland
Plantagenet, Angevin Line -- Reigned: 1199-1216

1167-1216
---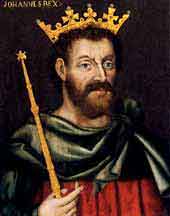 John was born on Christmas Eve 1167. His parents drifted apart soon after his birth leaving his childhood divided between his eldest brother Henry's house, where he learned the art of knighthood, and the house of his father's justiciar, Ranulf Glanvil, where he learned the business of government.
As the fourth child, inherited lands were not available to him, giving rise to his nickname, Lackland. His first marriage lasted but ten years and was fruitless, but his second wife, Isabella of Angouleme, bore him two sons and three daughters. He also had an illegitimate daughter, Joan, who married Llywelyn the Great, Ruler of All Wales, from which the Tudor line of monarchs descended.
The survival of the English government during John's reign is a testament to the reforms of his father, Henry II, as John taxed the system socially, economically, and judicially.
The Angevin family feuds profoundly marked John. He and Richard clashed in 1184 following Richard's refusal to honor his father's wishes to surrender Aquitane to John. The following year Henry II sent John to rule Ireland, but John alienated both the native Irish and the transplanted Anglo-Normans who had emigrated to carve out new lordships for themselves; the experiment was a total failure and John returned home within six months.
After Richard gained the throne in 1189, he gave John vast estates in an unsuccessful attempt to appease his younger brother. John failed to overthrow Richard's administrators during Richard's German captivity and conspired with Philip II in another failed coup attempt. Upon Richard's release from captivity in 1194, John was forced to sue for pardon and he spent the next five years in his brother's shadow.
John's reign was troubled in many respects. A quarrel with the Church resulted in England being placed under an interdict in 1207, with John actually excommunicated two years later. The dispute centered on John's stubborn refusal to install the papal candidate, Stephen Langdon, as Archbishop of Canterbury. The issue was not resolved until John surrendered to the wishes of Pope Innocent III and paid tribute for England as the Pope's vassal.
John proved extremely unpopular with his subjects. In addition to the Irish debacle, he inflamed his French vassals by orchestrating the murder of his popular nephew, Arthur of Brittany. By spring 1205, he had lost the last of his French possessions to Philip II and returned to England.
The final ten years of his reign were occupied with failed attempts to regain the lost territories from Philip. His ever increasing demands for money and fighting men for his dismal campaigns aroused the ire of the barons. Finally, in 1215 the barons came together and demanded John's written guarantee of certain rights and priviliges in exchange for their military support. At first John refused to sign the document offered and the discontented barons revolted. They captured London in May 1215 and held the city until John relented.
At Runnymeade in June 1215, John succumbed to pressure from the barons, the Church, and the English people at-large, and set with his seal on June 15 a draft of stipulations known as Articles of the barons (now lost). On June 19 a document was finalized as the Magna Carta (Great Charter). The document, a declaration of feudal rights, stressed three points:
First, the Church was free to make ecclesiastic appointments.

Second, larger-than-normal amounts of money could only be collected with the consent of the king's feudal tenants.

Third, no freeman was to be punished except within the context of established common law.
Magna Carta, although a testament to John's complete failure as monarch, was the forerunner of modern constitutions. John only signed the document as a means of buying time and his hesitance to implement its principles compelled the nobility to seek French assistance. The barons offered the throne to Philip II's son, Louis.
John died, 18 October 1216 at Newark Castle, Nottinghamshire, from battle wounds received in a two-front war: an invasion from the French in the South and rebellion from his barons in the North. He was remembered in elegant fashion by Sir Richard Baker in A Chronicle of the Kings of England:
". . . his works of piety were very many . . . as for his actions, he neither came to the crown by justice, nor held it with any honour, nor left it peace."
Other Information:
Born: 24 December 1167 at Beaumont Palace, Oxford
Died: 18 October 1216 at Newark Castle, Nottinghamshire
Buried: Worcester Cathedral, Worcester
Parents: Henry II and Eleanor of Aquitane
Siblings: William, Henry, Matilda, Richard, Geoffrey, Eleanor, and Joan
Crowned: 27 May 1199 at Westminster Abbey, Middlesex
Married:
(1st) 29th August 1189 at Marlborough Castle, Wiltshire
(2nd) 24 August 1200 at Bordeaux Cathedral
Spouse:
(1st) Isabella daughter of William, Earl of Gloucester
(2nd) Isabella daughter of Aymer Taillefer, Count of Angouleme
Offspring:
(1st) None
(2nd) Henry, Richard, Joan, Isabella, and Eleanor
(Illegitimate) At least twelve
Contemporaries:
Philip II (King of France, 1180-1223)
Innocent III (Pope, 1198-1216)
Llywelyn the Great (King of Wales, 1208-1240)
---