---
George IV
House of Brunswick, Hanover Line -- Reigned: 1820-1830

1762-1830
---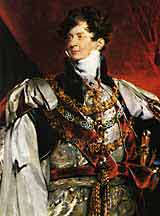 George IV, eldest son of George III and Charlotte, was born August 12, 1762. He secretly married his first wife, the Catholic widow Maria Fitzherbert, in 1785 without his father's permission. The marriage was declared illegal at his father's behest; had the marriage been allowed to continue, George would have been ineligible to reign with a Catholic wife.
In 1795, he married again, this time to his cousin Caroline of Brunswick, who bore him one daughter, Charlotte. He died on June 26, 1830 after a series of strokes brought on a hemorrhage in his stomach.
George IV was the antithesis of his father: conservative in his infrequent political involvement and licentious in affairs of the heart. Although he was scandalous with his mistresses and extravagant in his spending, he was a patron of the arts who left many wonderful artifacts for posterity.
He had his father's immense book collection donated as the foundation of the British Museum Library and his penchant for building projects inspired the "Regency" style of architecture. His extravagances, however, came at a time of social distress and general misery following the Napoleonic Wars and the tremendous changes brought forth by the industrial revolution.
George's amorous nature was highly controversial. As Prince Regent, he had many mistresses until he secretly married Maria. After her dismissal from court, George again turned to mistresses until he submitted to his father's wishes by marrying Caroline.
The couple detested each other and their marriage was barely intact when their daughter was born in 1796. Caroline took the child and moved to Italy, returning to England when George succeeded his father, and then only to claim the rights of queen. George managed to have her barred from his coronation, denying her queenship.
George was an enigma: bright, witty and able on the one hand, indolent, spoiled, and lazy on the other. The Duke of Wellington described him as such:
"He was the most extraordinary compound of talent, wit, buffoonery, obstinacy, and good feelings, in short, a medley of the most opposite qualities, with a great preponderance of good -- that I ever saw in any character in my life."
---