---
Edward VII
House of Saxe-Coburg-Gotha -- Reigned: 1901-1910

1841-1910
---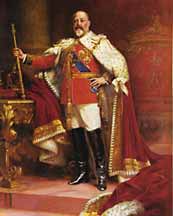 Edward VII, born November 9, 1841, was the eldest son of Queen Victoria. He took the family name of his father, Prince Consort Albert, hence the change in lineage, although he was still Hanoverian on his mother's side.
He married Princess Alexandra of Denmark in 1863, who bore him three sons and three daughters. Edward died on May 6, 1910, after a series of heart attacks.
Victoria, true to the Hanoverian name, saw the worst in Edward. She and Albert imposed a strict regime upon Edward, who proved resistant and resentful throughout his youth. His marriage at age twenty-two to Alexandra afforded him some relief from his mother's domination, but even after Albert's death in 1863, Victoria consistently denied her son any official governmental role. Edward rebelled by completely indulging himself in women, food, drink, gambling, sport and travel. Alexandra turned a blind eye to his extramarital activities, which continued well into his sixties and found him implicated in several divorce cases.
Edward succeeded the throne upon Victoria's death; despite his risqué reputation, Edward threw himself into his role of king with vitality. His extensive European travels gave him a solid foundation as an ambassador in foreign relations. Quite a few of the royal houses of Europe were his relatives, allowing him to actively assist in foreign policy negotiations. He also maintained an active social life, and his penchant for flamboyant accouterments set trends among the fashionable.
Victoria's fears proved wrong: Edward's forays into foreign policy had direct bearing on the alliances between Great Britain and both France and Russia, and aside from his sexual indiscretions, his manner and style endeared him to the English populace.
Social legislation was the focus of Parliament during Edward's reign.
The 1902 Education Act provided subsidized secondary education, and the Liberal government passed a series of acts benefiting children after 1906; old age pensions were established in 1908.
The 1909 Labour Exchanges Act laid the groundwork for national health insurance, which led to a constitutional crisis over the means of budgeting such social legislation. The budget set forth by David Lloyd-George proposed major tax increases on wealthy landowners and was defeated in Parliament. Prime Minister Asquith appealed to Edward to create several new peerages to swing the vote, but Edward steadfastly refused. Edward died amidst the budgetary crisis at age sixty-eight, which was resolved the following year by the Liberal government's passage of the act.
Despite Edward's colorful personal life and Victoria's perceptions of him as profligate, Edward ruled peacefully (aside from the Boer War of 1899-1902) and successfully during his short reign, which is remarkable considering the shifts in European power that occurred in the first decade of the twentieth century.
---